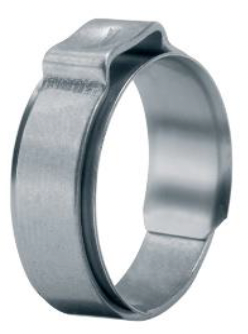 Oetiker
Oetiker 1-Ear Clamps, SS, 4.2mm - 5.2 mm (0.165" - 0.205"), De-Greased, 100/pk - 15400055
SKU:
---
This type of clamp combines the geometry and properties of the 1-Ear Clamp with an insert made of stainless steel.
These clamps are ideal for demanding applications involving soft or hard rubbers and plastics. The thin-walled insert ring (up to 0.3 mm thick), with an oval protrusion that locates in the ear space, bridges the ear gap and ensures almost uniform compression around the whole circumference of a clamp.
Edge condition
Burrs generated during the shearing and forming processes are entirely eliminated in a barrel-finishing operation.
Clamp ear (closing element)
Using tools designed or endorsed by Oetiker, the clamp is closed by drawing together the lower radii of the "ear". The maximum diameter reduction is proportional to the open "ear" width.
The maximum reduction in diameter is given by the formula:
Max. diameter reduction = Ear width (s) / π
Important
Single tool stroke closure only, do not apply secondary crimping force.
---
Share this Product
---
More from this collection