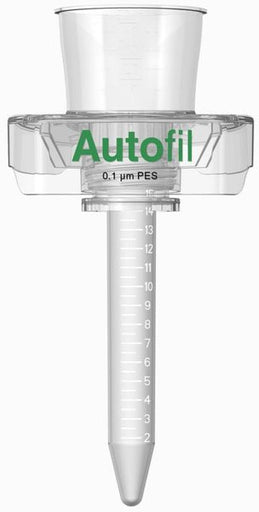 Foxx Life Sciences
Autofil® Centrifuge Funnel Vacuum Filter Assembly 15mL, .1μm PES, 24/case
SKU:
---
High Flow Vacuum Filter Tube
Autofil® 15ml Centrifuge Funnel is available as either a complete assembly or as a funnel only Centrifuge Funnel vacuum filter. The patented next generation product comes with 3 different asymmetric PES membrane pore sizes (0.1μm, 0.2μm, or 0.45μm). The Foxx PES membrane has low protein binding and is surfactant-free.
The Autofil® system is designed for sterilization or clarification of aqueous laboratory fluids. The filters are Gamma sterilized 10""6 in the USA.
An industry first, Foxx Life Sciences sells a stable, low-profile patented optional pedestal base or a low cost ring-stand cradle. Each Autofil® holder provides a stationary vacuum hose connection that makes set-up and use quick and efficient while preventing spills and tissue culture hood contamination. These optional holders allow for hands-free operation of the filter unit.
Foxx Life Sciences' Autofil® is manufactured in ISO 13485 clean room in NA.
*Must be used with a vacuum source.
*All filters include standard hose barb vacuum connector.
Autofil® Hardware sold separately.
Pedestal and Cradle Ring
Specifications
Funnel Height: 2.49" (63.37 mm)

Funnel Width: 3.3" (83.74mm)

Funnel Weight: .192lb (.083kg)

Funnel Volume: 15ml

Tube Volume: 15ml

Funnel Material: Polystyrene

Filter Material: PES

Filter Pore Size: 

.1μm
Filter Diameter: 40mm
Gamma sterilized 10""6

Documentation
Autofil® Centrifuge Filtration Datasheet: (US)
Autofil® Centrifuge Filtration Datasheet: (A4)
Click here for a full list of our product datasheets!
Videos
Check out all of our videos on our
YouTube Channel!
---
Share this Product
---
More from this collection