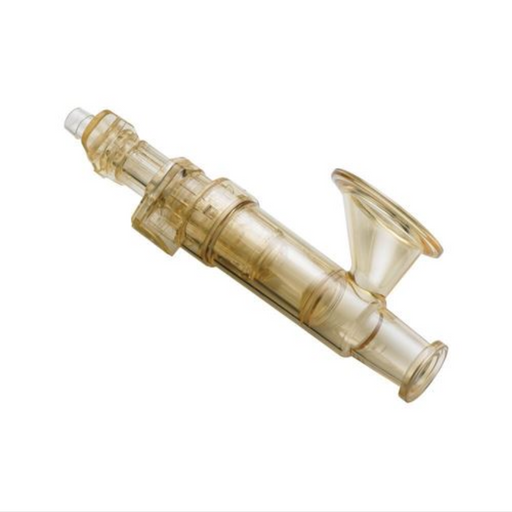 Foxx Life Sciences
Pre Holiday Sale Offer
Steam-Thru® 3/8" Hose Barb x 3/4" x 1-1/2" Sanitary SIP Connector, PS - STC2020300
SKU:
In Stock


Ships within 24-48 Business Hours
---
Steam-Thru® Connections allow a quick and easy sterile connection between biopharmaceutical processing equipment and disposable bag and tube assemblies. The single-use design saves time and money by eliminating unnecessary cleaning procedures and reducing validation burden associated with reusable components.
The innovative three port design of CPC's Steam-Thru® technology enables uncomplicated actuation between the SIP steam pathway and fluid transfer (flow) pathway. This provides an easy and sterile connection between flexible single-use tubing and stainless-steel processing equipment. The Steam Thru product lines offer versatility within your process by having connection options for 3/8" and 1/2" ID tubing on the single-use side of the connector and 3/4" and 1-1/2" sanitary connections for attachment to the stainless-steel processing equipment. 
Specifications
Steam Position 
Temperature: 
39°F to 104°F (4°C to 40°C) 
Pressure: 
Up to 35 psi, 2.4 bar
Flow Position 
Temperature: 39°F to 104°F (4°C to 40°C) 
Pressure: Vacuum to 20 psi, 1.4 bar 
Sterilization 
Gamma: Up to 50 kGy irradiation 
Autoclave: Up to 265°F (129°C) for 60 minutes 
Steam-In-Place (SIP): 
Up to 275°F/135°C (up to ~31psi), 60 minutes
Terminations
3/8" (9.5mm) to 1/2" (12.7mm) ID hose barb and 3/4" sanitary
Material
Connection: Polysulfone (amber tint)
O-rings: Silicone (clear) platinum-cured
Removable Sleeve: Polycarbonate
Features and Benefits
Three port design allows a true steam-through SIP process which eliminates dead legs and the need for laminar flow hood. 
Patented valve design allows sterile connection and disconnection and permits high media flow rate
Steam-Thru II Connections offer the flexibility of "steam on" and "steam off" functionality. The innovative design allows the valve to be returned to the steam position enabling a second SIP cycle following media transfer. The "steam off" disconnection of single-use systems minimizes cross-contamination risks associated with reusable components.
Applications
Bioreactor Feeding
Cell Harvesting 
Product Sampling
Media Transfer 
Single-Use Bag Systems
Documentation
---
Share this Product
---
More from this collection